Woodstock, NY, is an artists' town, and I'm thrilled to have photographs in the shows at both Woodstock Artists Association Museum and Woodstock Byrdcliffe Guild. If you're doing a quick holiday upstate get-away from NYC, please check out these galleries in the heart of town. Wonderful art and wonderful art organizations. Please support the arts and artists this holiday season. Hope your season is filled with fun and joy.
Woodstock Peony at WAAM above Marie-Claire Charba.
My Woodstock Peony series, begun in 2017, is shot live in the garden as a response to our political reality in America. I wanted to make pictures that are undoubtably feminine. Each  year the same plants yield very different flowers. Our political and natural climates are in distress, and sometimes the only thing I can do is turn to nature for solace. These pictures are both my response and my hope.
The Byrdcliffe Guild's famous 5 by 7 Show is going strong until the New Year. Hundreds of fabulous little pieces by local artists—all for 100 dollars. It's a wonderful benefit, and I'm so happy to be part of this community and part of the show.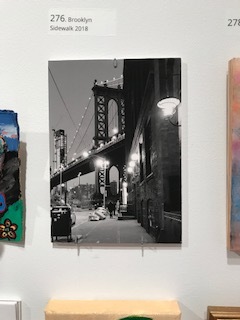 Brooklyn 2018
Central Park. 2018